Post by sunblaze on Oct 8, 2019 22:22:35 GMT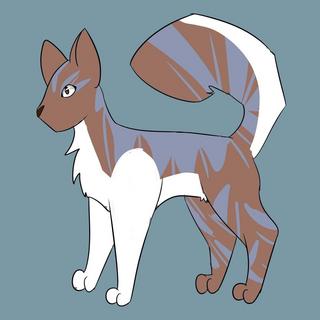 Olivewhisper, Female, MothClan, Elder, 87 Moons
Appearance: An unusual Chcolate silver tortie with a large puddle like splash of silver on her back extending to her sides. Stripe like shapes around her eyes and down her hind legs, a fluffy striped tail with a white underside going all the way to herneck. She is a fluffy medium hair, rather proportional shapewise, besides long and thick legs, and a shorter furred slim face complimented with strange blueish gray eyes.
Personality: An extremely motherly cat, loving kits and watching them grow. She is very forgiving, sometimes too much. She struggles to defend herself, frequently justifying other's wrongdoings. She takes a lot of responsibility teaching young when she can. and hates to be a nuisance, tending to groom herself from ticks and clean her own den. It is hard for her to accept help even after many years of service as a mother and warrior. Around others she may take jokes seriously and be easily offended, which makes some try to avoid her, but she is frequently in solitude anyway.
History: Olivekit, born into IvyClan with her brother Furzekit, spent a lot of time together, playing with the others and having a relatively normal kithood. Their parents, Sweetsplash and Wormpounce were both supportive and nurturing. As apprentices, Olivepaw's mentor was a confused young warrior, who Olivepaw strove to help and make it easier. Of course she longed to be caught up, but both her and her mentor struggled a bit. After two extra moons, watching Furzerunner earn his name, she earned hers after her soft spoken voice and love for the soft whispers off the nursery. She didn't feel at home there though, and sought love across the border. She was welcomed into MothClan where she found a mate in Toadfall, a goofy and not particularly strong warrior. They hunted together, one day even taking down a fox with only a small patrol at their side. Toadfall improved by the time they had their first litter, Icelake, Hollowpool, and Dappledgaze. She continued living a more motherly focus, spending most her off time in the nursery, later having a second litter, Darkbranch and Ratfang. They became excellent warriors, just as Olivewhsiper grew old, losing her parents to greencough one after another. Staying strong, she fought for another season before retiring to the elder's den.
.
Design by Mama, Lucky Dip Design so I shouldn't have to buy rare coat