Post by sunblaze on Oct 16, 2019 2:10:54 GMT
Bouncepaw, Male, Heterosexual, RootClan Apprentice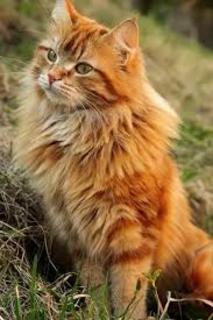 Personality: Bouncepaw is not named specifically for his energy, but more for his jumpiness. A cat wouldn't guess his careful and quiet nature when he feels his family needs defended, especially his sister, Sweetpaw. He is a completely different cat around Sweetpaw, far more sociable and a much better advocate. He tends to give himself multiple reputations among his Clan. He goes as a social and charismatic cat when approached, but also unable to advocate for others beyond his family and closest friends.
He also seeks approval from his older brother a lot. He feels shunned for accepting Sweetpaw's identity. Thus, he seeks approval from a lot of others, he denies his charismatic energy that he shows unknowingly at times.
Appearance: Bouncepaw is a longhaired orange tom with a long, lighter neck tuft that. somewhat resembles a lion. His cost is fluffy all around around and often matted, especially around his neck and belly. He has fiery red orange stripes streaking specifically his legs. His pelt stripes are splashy minus his head stripe, a more defined arch. His facial features are not too distinguishing, but he has a soft pink nose, wide muzzle, and dull green eyes.
His body shape isn't that distinct either, minus his disproportionate flowing tail. He has pretty long legs, though not entirely visible because his long coat.
History: Bouncekit was born a surprise litter along with Sweetkit. His parents had an older brother already, which Bouncepaw had talked to a couple times. He spent his time doing normal kit things, chasing the other kits, playing pranks. Nothing crazy.
Then, Sweetpaw struggled with her identity, feeling more like her mother. Bouncepaw was in shock after watching his usually accepting and forgiving parents lash out at the young cat. He uunderstood that his littermate was going through so much after that, and he came to Sweetpaw afterwards to make sure she knew that he still supported and loved her.
At first it was a quiet struggle, always feeling a bit uneasy at the thought of his parent's reaction. It kept him up at night. He performed worse in training, never able to pay full attention. His mentors and parents grew disappointed in him, but Bouncepaw knew that he could improve, perhaps by being a bit more open about his support for his sister.
Currently he is more open and confident in his support and is enjoying his apprenticeship